iDroo
is a relatively new tool that is available in your Chrome Web Store. This tool allows you to host a digital space where users can interact, and collaborate. Unlike other drawing tools, 
iDroo
 allows you import math functions and maintain the user permissions at a person by person level.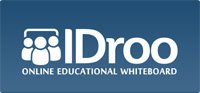 Math Speach
The math elements found in this tool make it a must have for math educators! You have the option to input any symbol into your board that you so choose. The possibilities for creating online learning spaces has opened up to a whole new level!
Live Writing
This tool is accessible on any platform, making it universal, and functional. While accessing these platforms, you will always see a live icon where other users are writing. The time lapse is almost non existent and the collaboration is palpable.
Easy Sign Up
For other users to log in, they have the opportunity to sign into Facebook, Windows Live, and Google. This ease of sign up allows you to quickly get students onboard, and work completed.
This tool answers the age old issue of iPad users not being able to use collaborative drawing tools. Flockdraw, and Google Drawings are two simple examples that lack the function of being used on an iPad. 
iDroo
 lets you do this! 
---
If you like what you read, please subscribe or share!