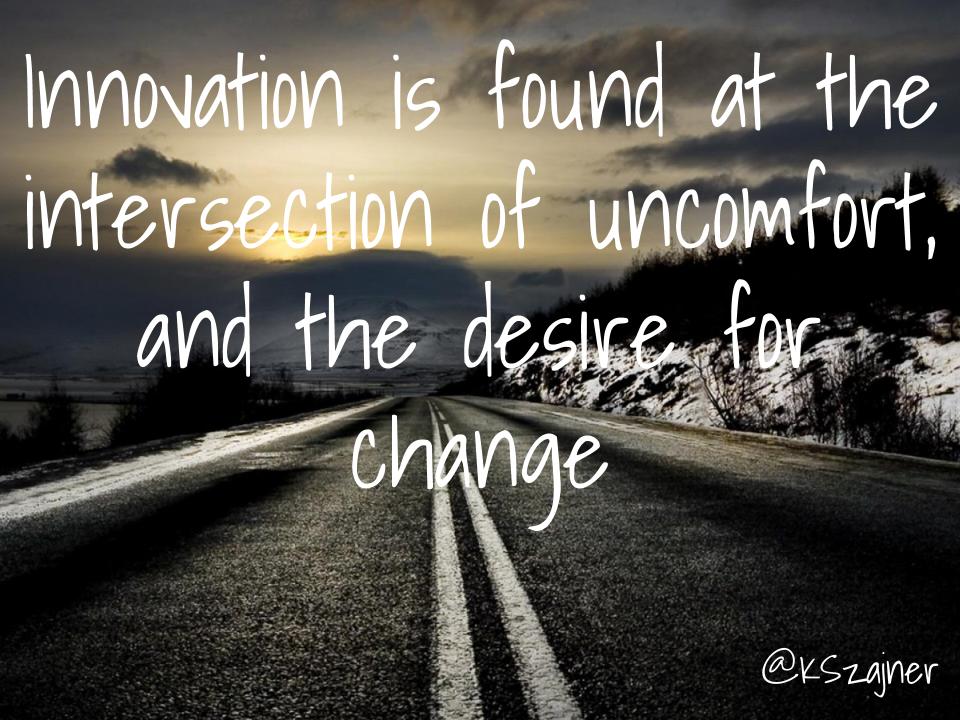 I posted this on twitter the other day and wanted to write a post to follow it up. Innovation in education is a very hot topic. Innovation is defined today in many ways. Some describe it as 21st century learning (creativity, collaboration, communication, and critical thinking. Others describe it as technology integration. Regardless of how you define innovation, it is the act of taking advantage learning opportunities that were not possible before.
Innovation today is not easy. It is not something that you can turn on, purchase curriculum for, or force onto educators. Innovation is found within each and every teacher, and it looks different for everyone. Regardless of how you move forward, you need to understand two things:
First, innovation will require you to be uncomfortable. True innovation will force you to hit the reset button. You will have to re-learn how to teach in todays world. These new learning opportunities will force you to restructure your day, recreate your units, and reframe how you hold yourself in your classroom. All of these elements are not easy to do, and will force you into a realm that is not comfortable.
Second, innovation needs to come from within. If you do not see the need for change, you will not change. If you think the way you teach today is good enough, you will not change. Without the sense or urgency to change, you will not change. Unfortunately, you cannot force this on people. You can provide PD around why we need to change, but forcing this on educators will result in skill remission, and a poor outlook on the direction. 
This sounds like innovation is a bad decision, but the end result will make all the struggles worth it. Picture the students that leave your classroom today. Can they solve complex problems? Can they work in teams, both face to face and virtually? Can they guide their own learning? Can they demonstrate their learning through technology? These are just a few of the questions that innovative students find easy. Innovative students can literally do this in their sleep, trust me, I have created it! 
---
If you like what you read, please subscribe or share!